Project Book – Available in English and Mongolian Languages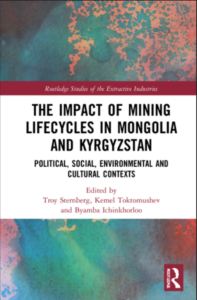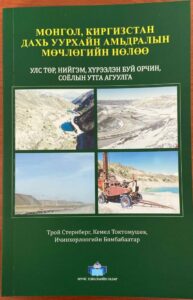 Sternberg, T., Toktomushev, K. and B. Ichinkhorloo. 2021. The Impact of Mining Lifecycles in Mongolia and Kyrgyzstan. Routledge.
The Mongolian version of the book is available from the National University of Mongolia Press.
Academic Publications
Please contact the Gobi Framework team directly if you would like access to any of the below publications.
2022
Sternberg, T.; Mayaud, J.R.;

Ahearn, A. Herd It in the Gobi:

Deserting Pastoralism?

Land

2022

,

11

,




799.

https://doi.org/10.3390/

land11060799
Ahearn, A., Darambazar, D., Hobbs, J., Ichinkhorloo, B., Purevsuren, B. 2022. The Belt and Road Corridor in Mongolia: Infrastructure Development and Impact Assessment. In Hobbs, J. and Juffe-Bignoli, D. (eds) Impact Assessment Approaches: Towards Development Corridors. For more on this publication see: Informational Flyer
2021
2020
Hughes A, Lechner A, Chitov A, Horstmann A, Hinsley A, Tritto A, Sternberg, T, Yu D. 2020. Horizon Scan of the Belt and Road Initiative. Trends in ecology & evolution, 35 (7), pp. 583-593
2019
Lezak S, Ahearn A, McConnell F, Sternberg T. 2019. Frameworks for conflict mediation in international infrastructure development: A comparative overview and critical appraisal, Journal of Cleaner Production, doi:https://doi.org/10.1016/j.jclepro.2019.118099
2017
University of Central Asia (UCA) Working Papers
Aksarieva, N. Regional Development Funds: Understanding the Extractives in Kyrgyzstan. UCA. Working Paper, forthcoming
Abdrazakova, A. and Abdrazakova, N. The impact of COVID-19 on SMEs in Kyrgyzstan working with China. UCA. Working Paper, forthcoming
Social Impact Assessment Methdology Reports and Translations

"Methodology for Conducting Strategic and Cumulative Environmental Impact Assessment" Translation of the Mongolian file (available on Mongolia's Ministry of Nature, Environment and Tourism website) to English. Download the English Translation.
Tegshbayar, D., Baigalmaa, P., Purevdulam, L., Sanchir, J., and Bayarsaikhan, N. 2020. Report for the Government Working Group (Established by Order No. 28 of 2020 of the Cabinet Secretariat of Mongolia) on Social Impact Assessment Methodology and Legal Review and Recommendations for Social Impact Assessment. Монгол хэл | English Language Version
News and Op-Eds
Toktomushev, Kemel. Jan. 22, 2021. Anti-Chinese Sentiments in the Extractive Industry: A Central Asian Example. Link: https://www.chinausfocus.com/foreign-policy/anti-chinese-sentiments-in-the-extractive-industry-a-central-asian-example
Knowledge Exchange Report
A Report on Benefit Sharing, Conflict Resolution and Local Collaboration, 18 December 2018, Ulaanbaatar
On 18 December, 2018, the Gobi Framework research team1 gathered 15 experts from Mongolian Government, industry, NGOs, and universities to discuss challenges and opportunities to benefit sharing, conflict resolution and local collaboration in the extractive sector. Discussion focused on understanding to what extent mining companies and government adopted international frameworks such as the IFC's performance standards, ICMM Community Development Toolkit or World Bank Mining Community Development Agreements, amongst others. After examining a case study from Peru, the group reflected on the types of conflicts occurring in the Mongolian mining sector as well as current information sharing practices between mines and local citizens. This dialogue revealed the varied perspectives and experiences of companies, NGOs and government actors in Mongolia and produced insights around best practices for advancing more inclusive infrastructure development in Mongolia and beyond.
Media
Arslan.mn: 18 March 2021. Н.Баярсайхан: Эрдэс баялгийн салбарт нийгмийн нөлөөллийн үнэлгээ хийх шаардлагатай. 
Montsame: 26 January 2021: Эрдэс баялгийн салбарын төслүүдэд үнэлгээ хийх асуудлаар санал солилцлоо
Mongolian National Chamber of Commerceand Industry: 14 December 2021: Компанийн нийгмийн хариуцлагын хамтын үзэл баримтлалыг танилцуулав
Project Newsletters
Get up to date with the Gobi Framework project's work in 2019:
Newsletter 1: September 2018 to March 2019
Download Gobi Framework Newsletter 1,  March 2019 here.
Newsletter 2: April 2019 to September 2019
Download the English Version of the Gobi Framework Newsletter 2,  September 2019 here
Newsletter 3: October 2019 to March 2020
Download English Version of the Gobi Framework Newsletter 3, March 2020 here
Download the Mongolian Version of the Gobi Framework Newsletter, April 2020 here
Newsletter 4: April to September 2020
Download the English Version of the Gobi Framework Newsletter 4,  September 2020 here
Newsletter 5: Final Newsletter September 2021
Download the English Version of the Gobi Framework Newsletter 4, September 2021 here